WDRB 41 Louisville - News, Weather, Sports Community
Rogers, Bridgewater connection runs deep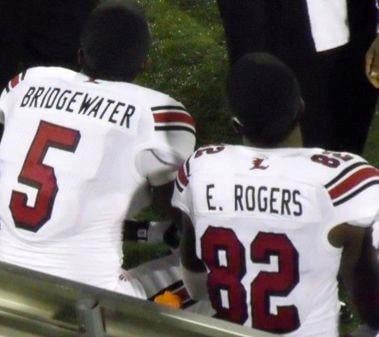 By Eric Crawford - email
with Pat Doney - email
MIAMI (WDRB) -- The quarterback-wide receiver connection is one of the most important in football. The building blocks are speed, precision, instinct and trust.

But the best ones have something more, a bond that transcends throw and catch.

For University of Louisville quarterback Teddy Bridgewater and wide receiver Eli Rogers, the connection goes deep. On the field as teammates at Northwestern High School in Miami and off the field as their mothers battled life-threatening health crises, the pair has developed the kind of understanding that comes from looking at the other guy and knowing that there's something more on his mind than football.
When Bridgewater gets into a tight spot on the field, he knows he can throw Rogers' way and feel confident. "He's dependable," Bridgewater said before this season. ". . . If there's nothing there, he's always in the right place at the right time for me."

For Rogers, the desire to deliver goes far beyond first downs, back to their days in Miami, and months that he lived in Bridgewater's home to find a place to hold himself together while his mother struggled with a serious sickness.

"She has AIDS," Rogers told WDRB's Pat Doney. "Has had it since I was eight years old. And it's been pretty tough on me because, you know, like, her mindset is not in a normal mind state so she goes in and out and she'll talk about different things, and it just bothers me sometimes, but I've grown and learned how to deal with it."

For stability, Rogers sought Bridgewater. The two already had a bond formed on the football field, and were seen often together at the home of one or the other. But during this time of crisis Rogers says the route he ran to Bridgewater's home altered the course of his life.

"We stayed together," Rogers said. "My mom was going through some things, my family was going through some things and I didn't want to be in the mix of that, because I probably wouldn't be here today."

Rogers returned to his mother's home before his high school graduation. Today his mother, Tranae Jackson, says she's doing well, keeping up with her medication. When WDRB reporters visited her home while the Cardinals were in Miami for a road game at Florida International, she was in high spirits and spoke of her son with smiles and pride, the walls of the small home in Miami's Brownsville neighborhood adorned with pictures of Rogers from peewee league through college.

Brownsville was called last year by the Miami New Times "one of the city's poorest and most-blighted neighborhoods." Three days before WDRB's visit last week, the block made news when a drive-by shooter with an AK-47 assault rifle fired more than a dozen shots into a vacant home, killing one person and injuring two others. A peewee football practice was in progress at a park across the street at the time of the shooting.

Jackson said there were times she wondered with all the things she was dealing with, her health, finances, being a single parent, the rough neighborhoods, if she'd ever be able to get her children through it. Even now, her health remains a battle.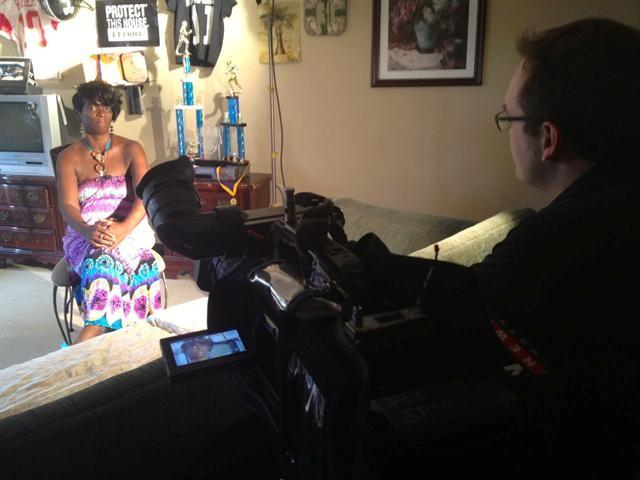 "I been sick for 11 years now," she said. "I've been going back and forth to the doctor and sometimes I don't want to take my medicine but, yes, I got back on track now and take my medicine regularly and I think I'm doing good. And my kids here now are a help and a support to me to keep me strong. My daughters are 11 and 15 and in school, and my brother and his wife . . . and my son Terrell. . . . It's family.

"Sometimes my mind will go to trigger, and I won't take it (medicine), but I know I have to take it. But yes, I do take my medicine now. And (Eli) is concerned on that situation too. He always asks if I'm all right.  . . . If I'm on the way I'll call him and tell him I'm out to the Jackson Hospital but I'm all right. I just have to stay eating, because sometimes I get in a way that I don't want to eat anything, and then I drop all my weight. But I thank God right now that I'm gaining all my weight back and doing what I'm supposed to do, and I go to support groups and stuff like that. It's tough, but I've got to keep my faith in the Lord and keep going on."

Jackson said during their high school days that Rogers and Bridgewater had plenty of friends but steered clear of trouble. She said they'd roll into her home and watch movies, DVDs or football. She said Bridgewater would pick her son up when he might be feeling low or inclined to ease up when it came to school. "Teddy would get on him, too," she said. "He'd say, 'We got to go, we got to do this.'"

Jackson said she's grateful for the help that many people have given her, particularly Rose Murphy, Bridgewater's mother, who watched after Eli as she did her own son. Jackson said if Murphy would hear something the boys had gotten into at school, she'd immediately call her and talk to her. Murphy is fighting -- and is winning -- her own health battle with breast cancer. She knew what it was to face a serious disease and try to raise a child through it.

And Teddy Bridgewater knew the struggle of worrying about a mother facing a life-threatening condition. When Rose Murphy was diagnosed with Stage 3 breast cancer, Bridgewater was 15 years old. She faced major surgery, then chemotherapy and radiation. His first decision was to quit football, quit school, go to work and "be a provider for my family and my mother, be the man of the house because there was no man in the household at the time."

Rose Murphy wouldn't let him. She told him he had a gift from God, and would not let him waste it. So Bridgewater was well-equipped to help Rogers deal with his mother's illness, and Rogers has tried to reciprocate. The two not only play together, they pray together.

"It was a rough time for Teddy, and I tried to be there for Teddy like he was there for me," Rogers said. ". . . His mother is like a second mother to me, and he is like a big brother. We leaned on each other through numerous occasions and had each other's back. It meant a lot, just outside of football it meant a lot. We built a big relationship off of that, and it carried onto the field. I believe that's why our connection has grown to be even greater. . . . Spending time with each other and getting to know each other's tendencies. I know it might sound a little crazy, but just getting to know what we like to do kind of gives off an energy on the field, to know where he's going to place the ball and what he's thinking on this play."

When it came time to make a college decision, after Randy Shannon had been let go at Miami, where the pair had previously committed, there was little doubt they'd wind up in the same place. Rogers committed to Louisville and said the conversation with Bridgewater went like this: "Well you want to go to Louisville? And Teddy said, 'It's on you. I'm gonna go wherever you go.' And I'm like, 'Let's go then, they've got a great coaching staff and we can build that program.' And Teddy said, 'I'm with it.'"

Back in Miami, the mothers remain close. Jackson said that today, Murphy still will call her with updates on the pair. On the day WDRB was at her home, Murphy was there to drive her to the doctor.

"They're good young men," Murphy said. "They work hard and they know they have each other."


The two are well-known in their old neighborhood and remembered at their old high school. It was clear from the visit to their old neighborhood that U of L's game against Florida International would be no ordinary game, filled as it was with so many players who had played against each other. The freshman quarterback who came on in relief for FIU in that game, E.J. Hilliard, followed Bridgewater as QB at Miami Northwestern, but there's more than that. He lives three doors down from Bridgewater's family and Teddy is the player who talked him into playing football when he wanted to focus on basketball. FIU's top receiver, Wayne Times, is the reason Bridgewater is a quarterback. When Times beat out Bridgewater for a wideout spot, Bridgewater was moved to QB. It was an emotional contest.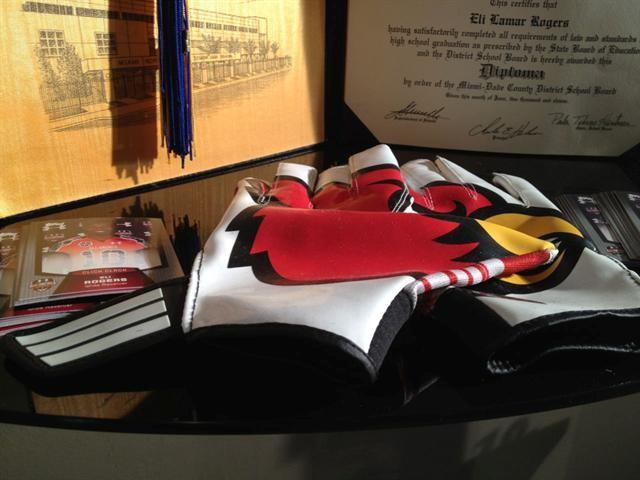 Back at Jackson's home, on a table next to the television in the front of the living room, sits Eli's high school diploma with a pair of U of L receiver's gloves arranged so that they form the Cardinal-head logo right beside it.

"I'm proud of my son, because there's a lot of shooting in this area, and if he was here now, " Jackson said, pausing, "I'm glad he's not here right now. Because about three days ago -- there's too much shooting around here, and I'm so glad for where my son is placed at right now. It was roped off at our front street and back street, and I just thank God he's where he is right now."

Being away, though, is tough for Rogers. When asked what he thinks when he hears the term AIDS, Eli said, "It just means life. That's someone's life being taken. You just have to go through the struggle, through this long period of time, just to know that you're going to pass with AIDS. It's just depressing. But every time I hear it, it's just motivation for me."

Motivation. Rogers used it as motivation to become the first member of his family to earn that diploma that sits proudly on his mother's shelf. And now, her son's achievement has become motivation for Jackson.

When she's out, people see her and ask about Eli or tell her they've seen him on television, Jackson just smiles.

"Every day they keep me motivated, too," she said. ". . . I just feel so good about it. I'm so happy for him, and Teddy and the whole team."